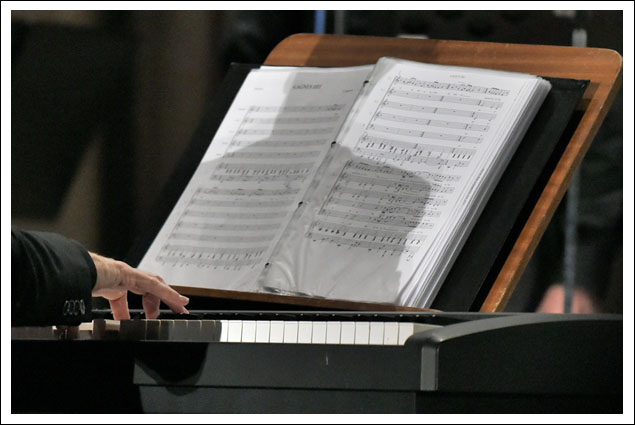 Di seguito un'ampia selezione dei brani in repertorio
Jazz - Swing
A Little Jazz Mass (Bob Chilcott); Come Fly With Me, Dream A Little Dream, 'Deed I Do, Doin' It A Cappella, Java Jive, Nightingale, Operator, It Don't Mean a Thing, I-95, Route 66, Satin Doll, Chattanooga Choo Choo, Choo Choo Ch' Boogie, The Boy From New York City, Tuxedo Junction, What A Wonderful World, When I Fall In Love.
Soul - Spiritual
Abide With Me, African Alleluia, Cantar!, Every Time I Feel The Spirit, Moon River, Seasons Of Love.
POP
Can't Buy Me Love, Here Come the Sun, Yesterday (The Beatles); With A Little Help from My Friends (J. Cocker); (M. Jackson) Heal the World; Somebody to Love (Queen); I Believe I Can Fly; Scarborough Fair (Simon and Garfunkel); You've Got a Friend (J. Taylor); Jump (Van Halen); Words.
Musical - Film
Aggiungi un posto a tavola, Notte per non dormire (Aggiungi un posto a tavola); Cabaret; Cats (Macavity, Memory, Mr. Mistoffelees, Skimbleshanks); Summer Nights, We Go Together (Grease); Everything's Alright, Hosanna, Superstar (Jesus Christ Superstar); America, I Feel Pretty, Tonight (West Side Story); Puttin' on the ritz; Mamma mia; Baciami piccina; Meglio Stasera; Non so dir ti voglio bene; Un bacio a mezzanotte.
Brani natalizi
Carol of The Bells; Carol of the Russian Children; Gloria Halleluja; Go Tell It on The Mountain; God Rest You Merry Gentlemen; Good King Wenceslas; Hark! The Herald Angels Sing; Have Yourself a Merry Little Christmas; He Is Alwais Close To You; Jesus Born On This Day; Jesus, Oh What a Wonderful Child; Let Is Snow; Mister Santa; Oh Happy Day; Plenty Good Room; Silent Night; S.Ta Claus Is Coming To Town; The Christmas Song; The Night That Christ Is Born; White Christmas.